Types of Bathroom Tiles: Exploring Your Options
When it comes to choosing bathroom tiles, the options are vast and varied. Each type of tile offers its own unique set of features, making it important to understand the different options available. Here, we will explore some of the most popular types of bathroom tiles:
Ceramic Tiles: Ceramic tiles are a popular choice for bathrooms due to their durability and affordability. They come in a wide range of colors, patterns, and finishes, allowing for endless design possibilities. Ceramic tiles are also resistant to water and stains, making them suitable for high-moisture areas like bathrooms.
Porcelain Tiles: Porcelain tiles are known for their strength and versatility. They are made from dense clay and fired at high temperatures, resulting in a tile that is resistant to water, scratches, and stains. Porcelain tiles are available in a variety of styles, including matte, glazed, and textured finishes.
Natural Stone Tiles: Natural stone tiles, such as marble, granite, and travertine, bring a touch of elegance and sophistication to any bathroom. These tiles offer unique patterns and variations, making each installation truly one-of-a-kind. However, natural stone tiles require regular maintenance and sealing to prevent staining and water damage.
Glass Tiles: Glass tiles are perfect for creating a modern and sleek look in the bathroom. They come in a range of vibrant colors and translucent finishes, adding a touch of luxury and sophistication. Glass tiles are also resistant to moisture and stains, making them easy to clean and maintain.
Mosaic Tiles: Mosaic tiles are a timeless choice for bathroom walls and floors. These small tiles are available in a range of materials, including ceramic, glass, and natural stone. Mosaic tiles offer endless design possibilities, allowing you to create intricate patterns and designs in your bathroom.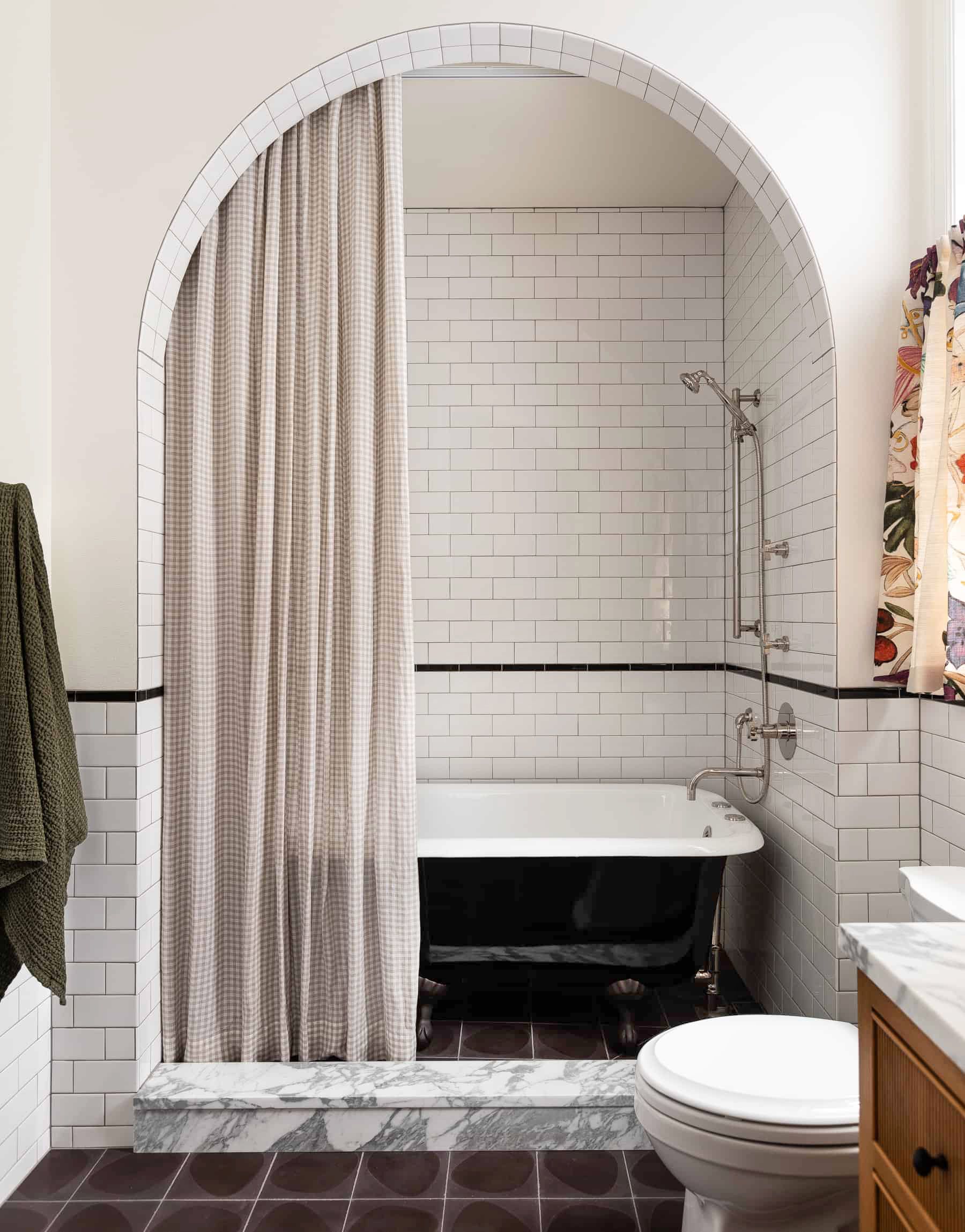 Choosing the Right Bathroom Tile: Factors to Consider
Selecting the right bathroom tile is crucial to creating a space that is both functional and aesthetically pleasing. Here are some factors to consider when choosing the right bathroom tile:
Durability: Bathrooms are high-traffic areas that are exposed to moisture and frequent cleaning. It is important to choose tiles that are durable and can withstand these conditions. Porcelain and ceramic tiles are excellent choices due to their durability and resistance to water damage.
Style and Design: Consider the overall style and design of your bathroom when choosing tiles. If you prefer a minimalist and modern look, glass or large-format porcelain tiles may be a good option. For a more traditional or rustic look, natural stone tiles can add warmth and character.
Size and Layout: The size and layout of your bathroom will also influence your tile selection. For smaller bathrooms, using larger tiles can create the illusion of a bigger space. Conversely, smaller tiles or mosaic patterns can add visual interest to larger bathrooms.
Maintenance: Consider the level of maintenance required for different types of tiles. Natural stone tiles, for example, may require regular sealing to prevent staining. Glass tiles, on the other hand, are easy to clean and maintain.
Budget: Set a budget for your bathroom tile project and choose tiles that fit within your price range. Ceramic and porcelain tiles are generally more affordable options, while natural stone and designer tiles can be more expensive.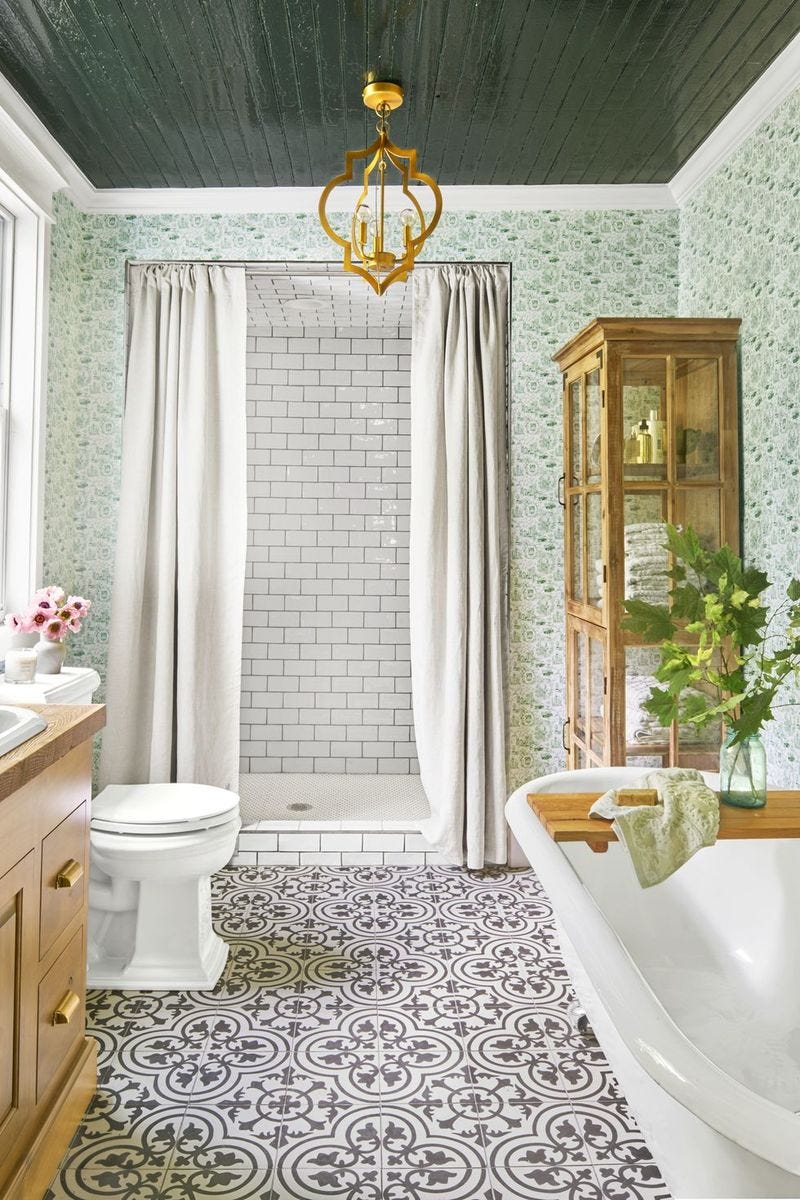 Popular Bathroom Tile Styles and Designs
The style and design of your bathroom tiles can greatly influence the overall look and feel of the space. Here are some popular bathroom tile styles and designs to consider:
Subway Tiles: Subway tiles are a classic choice for bathrooms. These rectangular tiles, usually in white or neutral colors, can be arranged in a brick or herringbone pattern for a timeless look. Subway tiles are versatile and can complement various design styles, from traditional to contemporary.
Geometric Patterns: Geometric patterns are on-trend in bathroom design. Tiles with geometric shapes, such as hexagons, chevrons, or arabesque patterns, can add visual interest and a modern touch to your bathroom. Play with contrasting colors and sizes to create a striking geometric design.
Wood-Look Tiles: If you love the warmth and natural beauty of wood but want a more practical option for the bathroom, consider wood-look tiles. These tiles mimic the appearance of wood but offer the durability and moisture resistance of ceramic or porcelain tiles. Wood-look tiles are available in various shades and textures, allowing you to achieve the desired wood aesthetic.
Vintage Tiles: For a touch of nostalgia, consider vintage-inspired tiles in your bathroom. These tiles often feature intricate patterns and designs reminiscent of the past. Vintage tiles can be used as a feature wall or as accents to add a unique charm to your bathroom.
Monochromatic Tiles: Monochromatic tiles, featuring shades of the same color, can create a sleek and sophisticated look in your bathroom. Choose tiles in different sizes and finishes within the same color family to add depth and texture to the space.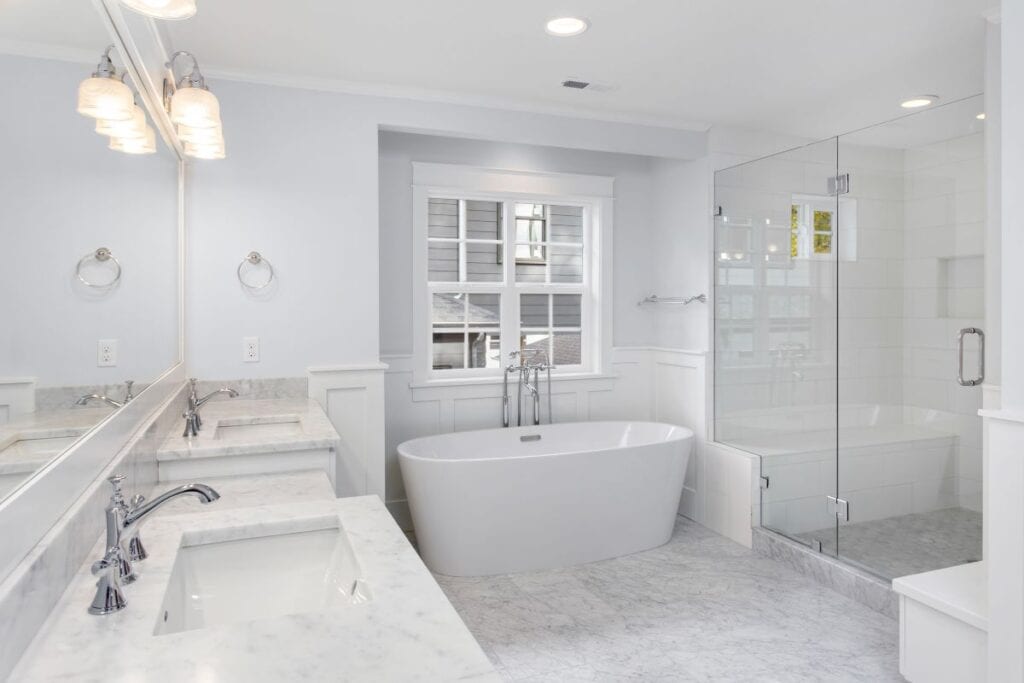 Pros and Cons of Different Bathroom Tile Materials
When selecting bathroom tiles, it's important to weigh the pros and cons of different materials. Here are the advantages and disadvantages of some popular bathroom tile materials:
Ceramic Tiles: Pros: Affordable, wide range of designs and colors, water and stain-resistant. Cons: Can chip or crack if not properly installed, may require periodic resealing.
Porcelain Tiles: Pros: Durable, water-resistant, scratch-resistant, low maintenance. Cons: Can be more expensive than ceramic tiles, may be harder to cut during installation.
Natural Stone Tiles: Pros: Unique patterns and variations, adds a luxurious feel, can increase property value. Cons: Requires regular maintenance and sealing, more prone to staining and scratching, can be expensive.
Glass Tiles: Pros: Modern and sleek appearance, easy to clean and maintain, resistant to moisture and stains. Cons: Can be more expensive, may require professional installation to ensure proper adhesion.
Mosaic Tiles: Pros: Versatile, can create intricate designs and patterns, adds visual interest. Cons: May require more time and effort to install due to the smaller tile size, grout lines may require regular cleaning.
Tips for Installing and Maintaining Bathroom Tiles
Proper installation and maintenance are key to ensuring the longevity and beauty of your bathroom tiles. Here are some tips to help you with installing and maintaining bathroom tiles:
Preparation: Before installing tiles, ensure that the surface is clean, dry, and level. Remove any old tiles, repair any damaged areas, and apply a waterproofing membrane if necessary.
Adhesive and Grout: Use high-quality adhesive and grout that are suitable for the specific type of tiles you are installing. Follow the manufacturer's instructions for mixing and applying the adhesive and grout.
Tile Layout: Plan the layout of your tiles carefully to ensure a balanced and visually pleasing result. Use tile spacers to maintain consistent spacing between tiles.
Sealing: Depending on the type of tiles you choose, sealing may be necessary to protect them from moisture and stains. Follow the manufacturer's recommendations for sealing and resealing.
Cleaning: Regular cleaning is essential to maintain the appearance of your bathroom tiles. Use non-abrasive cleaners and avoid harsh chemicals that can damage the tiles. Wipe up any spills or stains promptly to prevent them from setting.
Grout Maintenance: Keep the grout lines clean by regularly scrubbing them with a grout cleaner or a mixture of vinegar and water. Apply a grout sealer periodically to protect the grout from stains and discoloration.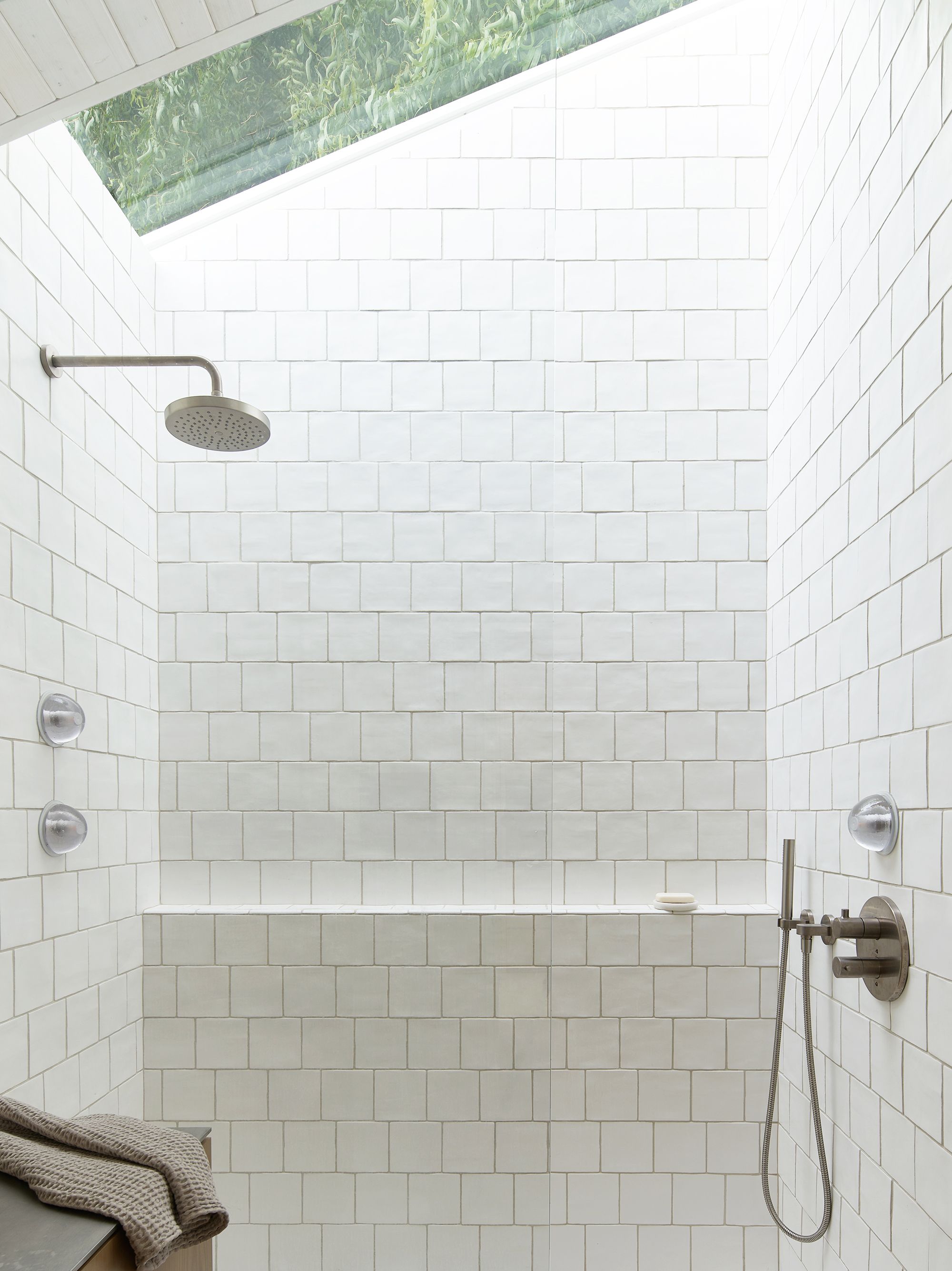 A Guide for Choosing Your Bathroom Tile – Plank and Pillow
Chic Bathroom Tile Ideas Bathroom Wall and Floor Tile Designs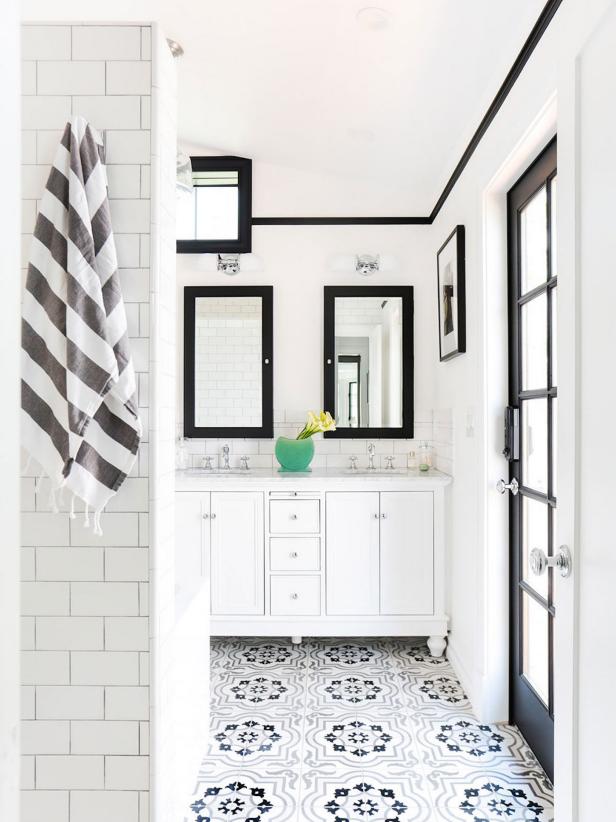 Bathroom Tile Ideas You'll Want to Steal – Decorilla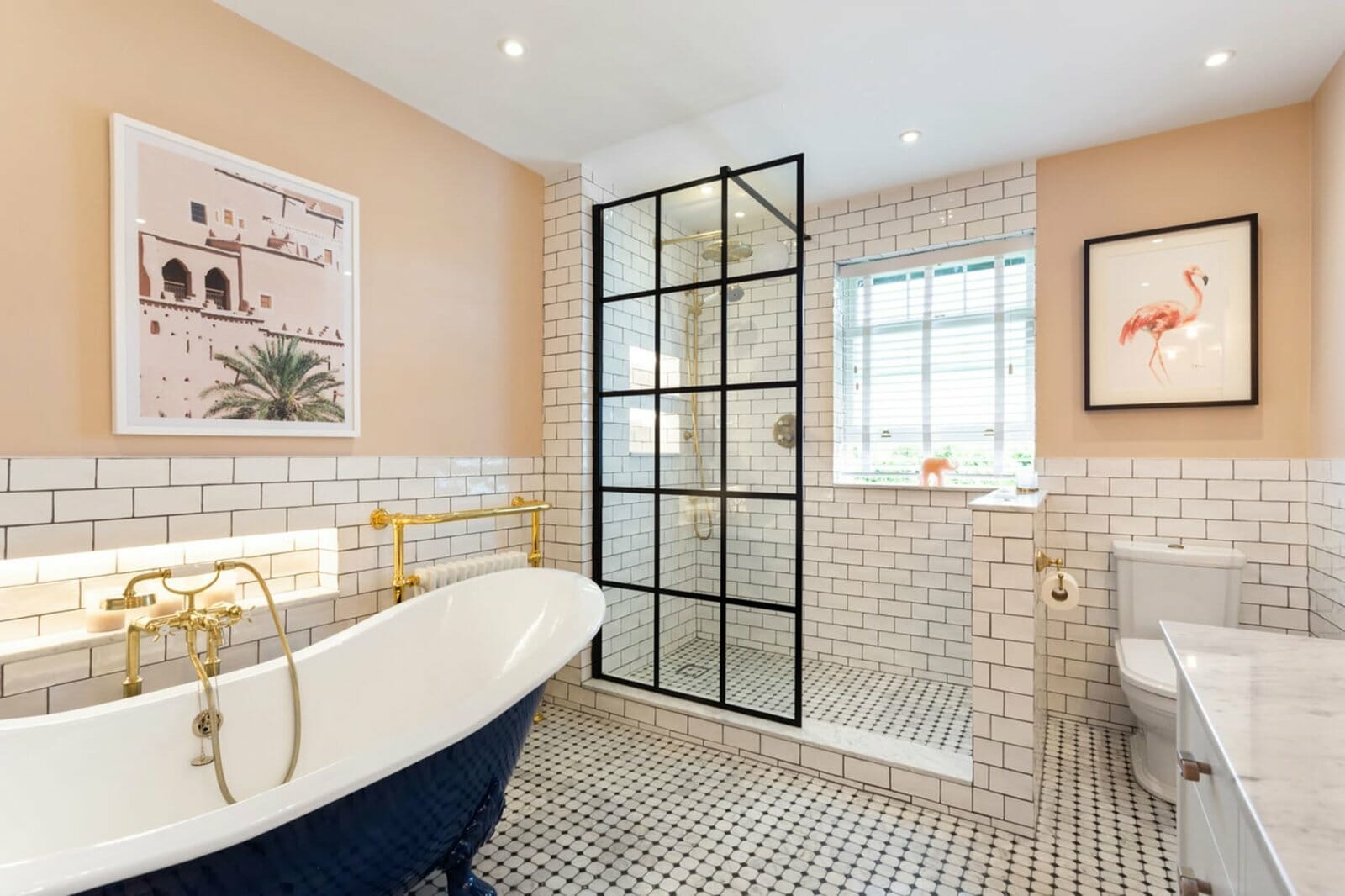 Related Posts: